City of Cartoon! Bucheon

Manhwa Business Center
The Manhwa Business Center supports the activation and simulation of creative work through a variety of programs.
Manhwa industry
in Bucheon
Cultural city Bucheon Along with angouleme in France, and tottori in Japan, cultural city Bucheon has shifted city's paradigm to become a cultural center.
In 1998, Bucheon started to build Manhwa city. As "story telling" is becoming important in many areas, Bucheon applied "Manhwa" contents, effective source of cultural industry.

Bucheon City Started Manhwa city creation plan started since 1998. More than 70 percentage of comic artists in Korea are currently creating works in Manhwa city Bucheon. City also has many innovative cultural facilities; Korea Manhwa museum, Manhwa creation studio, Manhwa imagination street in Bucheon Station, K-comics Station in Sangdong Station, etc. Along with these facilities, Korea manhwa festival(BICOF) takes place annually, on the third week of August.
Cartoon
leads rich and
varied BICOF!
Bucheon International Cartoon Festival (BICOF) is the largest cartoon festival in Korea and takes place every August. BICOF first started at 1998. Since then, Bicof attracts 80,000 people each year. The purpose of the festival is to popularize Manhwa to the public and to develop Manhwa industry. The Festival offers the various programs. Every year festival attracts thousands of people who want to experience unique cartoon programs such as Manhwa exhibition shows, and famous cartoonists' signing event.
Due to its rallying power, the number of programs, the festival is one of the largest samples of cartoon festival that are like Angouleme festival, Tokyo manga festival, and sandiago comicon, etc.
BICOF has welcomed many international cartoon exchanges, the festival has played important role in promote Korean Manhwa to the world.
Specific programs
Exhibition :

Main exhibition, special exhibition, project exhibition, and etc. Approximately 10 exhibitions are held at every year.
Contents Fair :

Runs Manhwa contents related business booth, Foreign investment promotion, Export business consulting, Business matching support, etc.
Conference :

Various lectures, and debate session with famous cartoonist and practicing professionals.
Experience Event :

Opening ceremony & closing ceremony, awards ceremony with famous stars, and cartoonists. Comics character
Visitor status
28,962
people
2009
72,772
people
2010
80,527
people
2011
92,607
people
2012

ICC?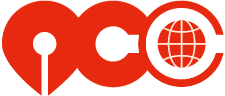 ICC : INTERNATIONAL COMIC ARTIST CONFERENCE is an international civil exchange organization that helps cartoonists from all around the world to share a friendship. ICC also provides opportunities to see each country's different cartoon style, culture, and their thoughts. ICC Korea secretariat is located at KOMACON. Since 1996, annual conference takes place in ICC standing committee member countries : Korea, Japan, China, Hong Kong, and Taiwan.
| Year | Country | City | Theme | Participate regions | participant(s) |
| --- | --- | --- | --- | --- | --- |
| Sep. 1996 | Japan | Tokyo | Common words | | |
| Sep. 1997 | Korea | Seoul | Expression and Freedom of comics | | |
| Sep. 1998 | Taiwan | Hsinchu | The Prospect of Globalization of Comics in the 21st Century | | |
| Aug. 2000 | Hong Kong | Hong Kong | The Prospect of Comics in the 21st Century | | |
| Oct. 2002 | Japan | Yokohama | Copyright of Comics | | |
| Oct. 2004 | China | Beijing | Comics and ethnicity in the 21st Century | | |
| Oct. 2005 | Korea | Bucheon | Beautiful gathering Mingled with Art and Friendship | 27 | 277 |
| Nov. 2007 | Hong Kong | Hong Kong | Digital entertainment and media | 8 | 276 |
| Sep. 2008 | Japan | Kyoto | Cartoon and environment | 10 | 268 |
| Oct. 2009 | Taiwan | Ta-nshui | Cartoon education and industry | 8 | 197 |
| Sep. 2010 | Korea | Bucheon | Cultural harmony through the art and culture | 22 | 355 |
| Oct. 2011 | China | Beijing | Better world through the cartoon | 11 | 202 |
| Nov. 2012 | Japan | Tottori | Food and sea | | |
| 2013 appointed | Hong kong | Hong kong | | | |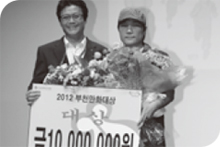 Bucheon Comics Awards To revive Korean cartoon, and to lead a public interest, "Bucheon Comics Awards" started since 2004. Evaluation is applicable to all published Manhwa and webtoon(online cartoon) in each year. After one winner is selected, winner gets a chance to exhibit their works, and work on BICOF poster for following year.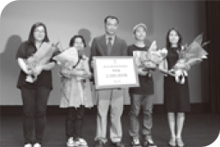 Creative Cartoon Contest "Creative Cartoon Contest" started 2003 to vitalize Korean cartoon market. This contest's motation is to encourage young and elder cartoonists' creation, and discover new superb artoon
contents. Ministry of Culture, Sports and Tourism are main supporter for this contest. Evaluation sections are divide to short story, and fulllength cartoon. Anyone who are older than 18 years old are eligible to participate. Each section has three nominations; first prize, grand prize, excellence prize. All winners gets opportunity of publishing a book of their works, and these books will be distributes to local and international interested parties.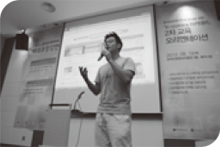 K-Comics Master Contest K-Comics Master Contest is a newly started online contest for college students. First contest started at 2012. KOMACON, NAVER are supervising this contest. After works submitted at the preliminary round, and final round, works are shown in NAVER website. Evaluation process starts with the website visitors evaluation of each works. Visitors are becoming a evaluators, and they simply evaluate the works by reply below the work or press recommendation button. After sum up public responses, and experts' evaluation, prize winner is selected.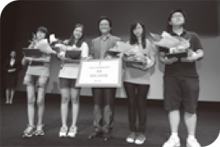 Bucheon Student Comic & Cartoon Festa To encourage teenage cartoon creation, and to discover talents, "Bucheon Student Comic & Cartoon Festa" started since 2000. This is an only student contest that is awarded by Minister at the Ministry of Culture, Sports and Tourism. Evaluation sections are divide by cartoon, and story. Also by the age group; middle school, high school.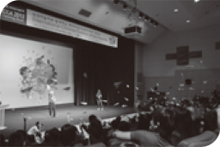 International Children Comic Artist Awards (ICCA) ICCA provides a place for children from all around the countries to gather and share their thought's and cultures. ICCA program is a 1 night and 2 days of camping. Since precamp was held at 2011, first official ICCA started at 2012, during the 15th BICOF.